OUR PHONE SERVICE IS OUT
We have not had phone service for the past two months, and possibly for the coming Second Sunday, too.
The phone line has been destroyed by construction in the park. We do not know when a new line will be laid.
We will be having our usual Second Sunday Public Train Rides on September 11, from 11 AM to 3:30 PM.
Thank you for your patronage. We hope you enjoy your train rides.
Welcome to the CALS Home Page

Part of the Chesapeake & Allegheny Steam Preservation Society
Last update 3/8/2016
Trackside phone (410) 448-0730
We are a Non-Profit Live Steam Club in Baltimore Maryland located in Leakin Park on Windsor Mill Road. (Map & Directions). Our public run days are the Second Sunday of each month from April to November from 11:00am to 3:30pm. (Click here for Calendar) The rides are free and there are picnic tables nearby for those who wish to make a day of it. Our track consists of (depending on who measures) 3200ft-3400ft, 7-1/2" double tracked main line, 1630ft of 4-3/4" on the ground, and 1050ft of elevated 4-3/4" and 3-1/2" track located on about 11.5 acres. Click here for an aerial view
Safety Notice: Small children must be able to sit up on our trains. If small children need some support, they must sit on the floor or on the seat in front of an adult who can provide that support. No child while on our trains may be carried in the arms, on the lap, or in any carrier. This policy is for the safety of the children.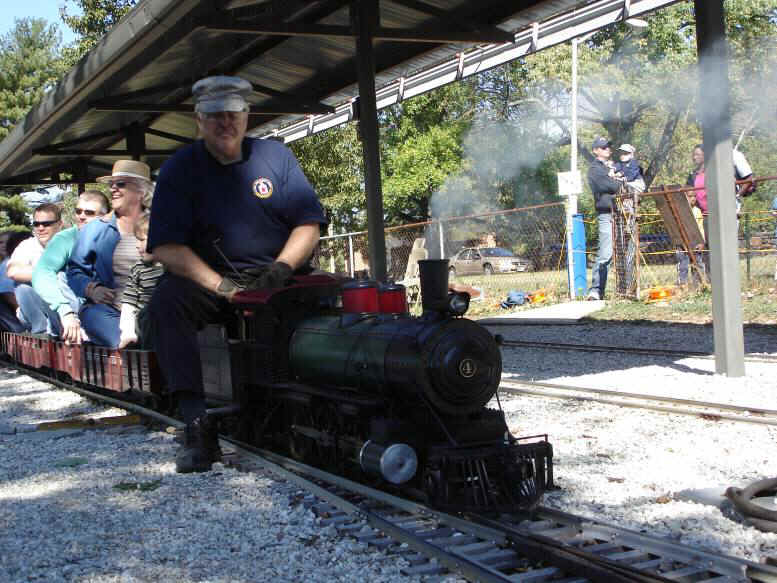 Andrew Dodge prepares to leave the station on his Mogul. Photo by Brett Hall
Baltimore Herb Festival will be on Sat May 28th from 9:30am-3pm
Archives of the club newsletter
<![if !supportLists]>· <![endif]>Updated with video Member photo section
<![if !supportLists]>· <![endif]>CALS Flyer in PDF format
<![if !supportLists]>· <![endif]>CALS Operating regs. Updated 2012 In PDF format
<![if !supportLists]>· <![endif]>What is it and how does it work Explanation of what all that stuff on a locomotive does.
<![if !supportLists]>· <![endif]>Questions from Trackside Questions and answers that you want to know.
<![if !supportLists]>· <![endif]>Model Boiler Code for Maryland The CALS worked closely with the State to develop these guidelines.
<![if !supportLists]>· <![endif]>Calculations for Max Traction, Curve radius, & Boilers
Links to here, there, and everywhere.
<![if !supportLists]>· <![endif]>Click here for Info on Member Engines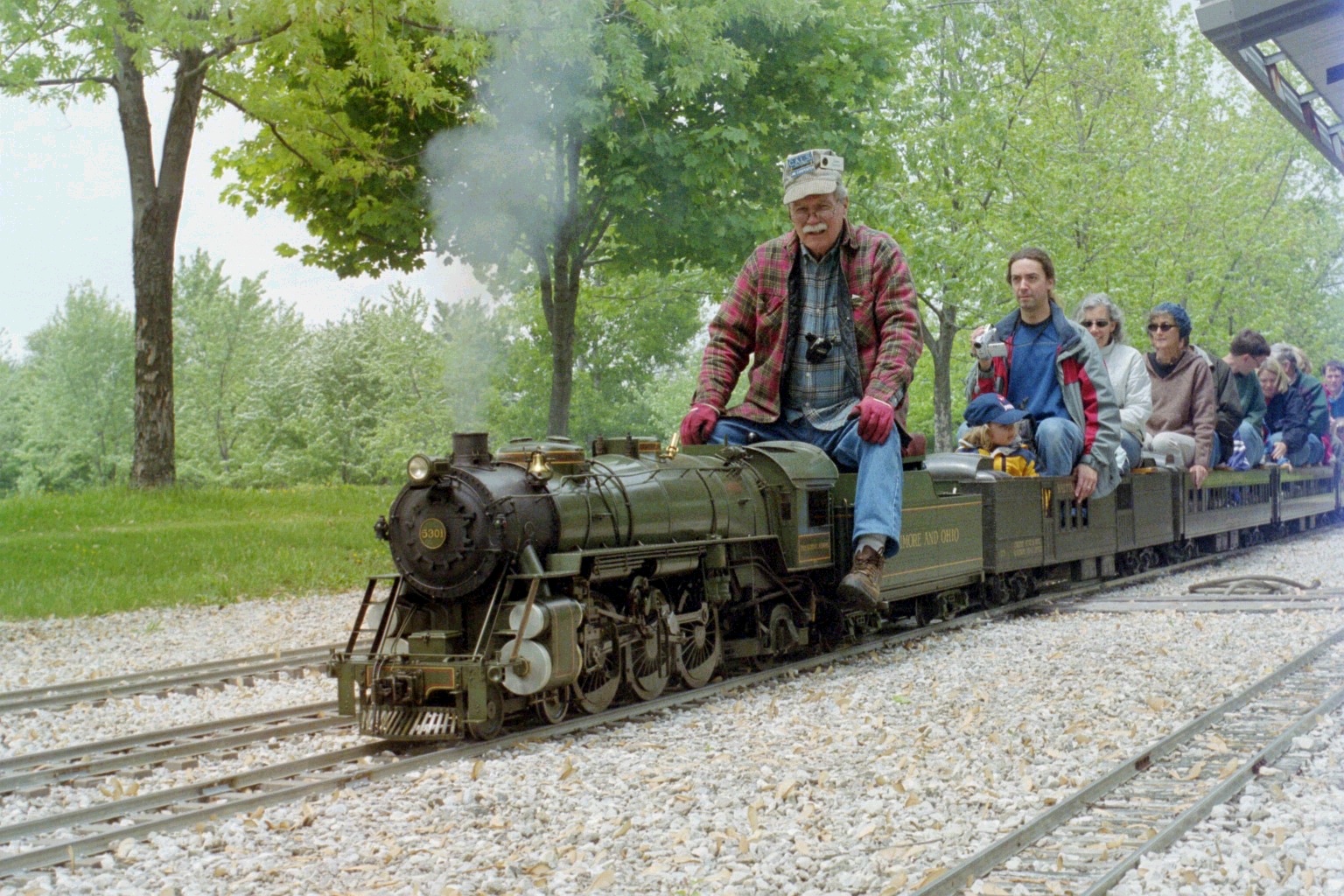 Jim Carpenter at the throttle of B&O Pacific 5301, the President Adams, taken at Leakin Park, Baltimore, MD, during the Mothers' Day public operating session of the Chesapeake & Allegheny Live Steamers, May 11, 2008. Photo by Glenn McComas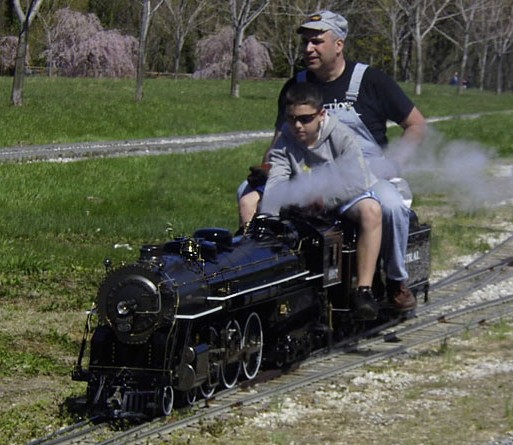 Mike Russo and his son Nick on Mike's Hudson
 
CSX with a full load

.

 

Photo by 

Brett Hall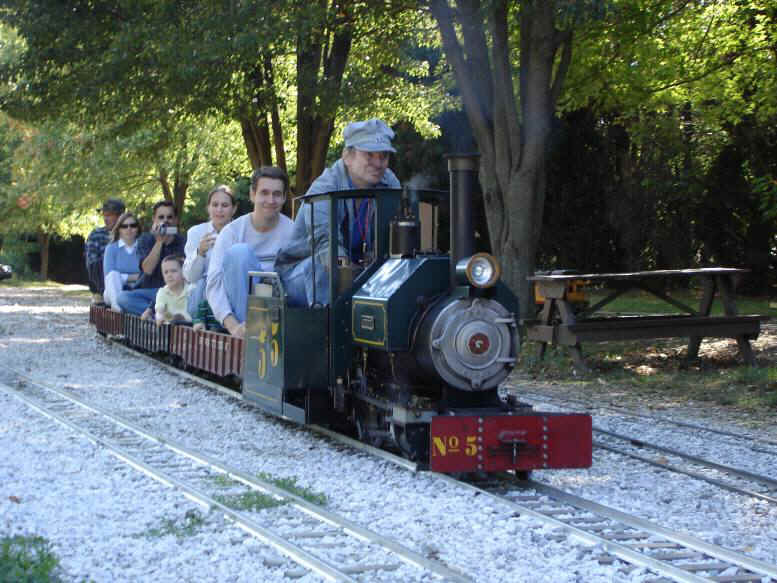 Paul Seyfrit on Wendy
Photo by Brett Hall
Created by Paul Seyfrit on Jan 12, 1996.
For comments or questions I can be E-mailed at: seyfritp@verizon.net